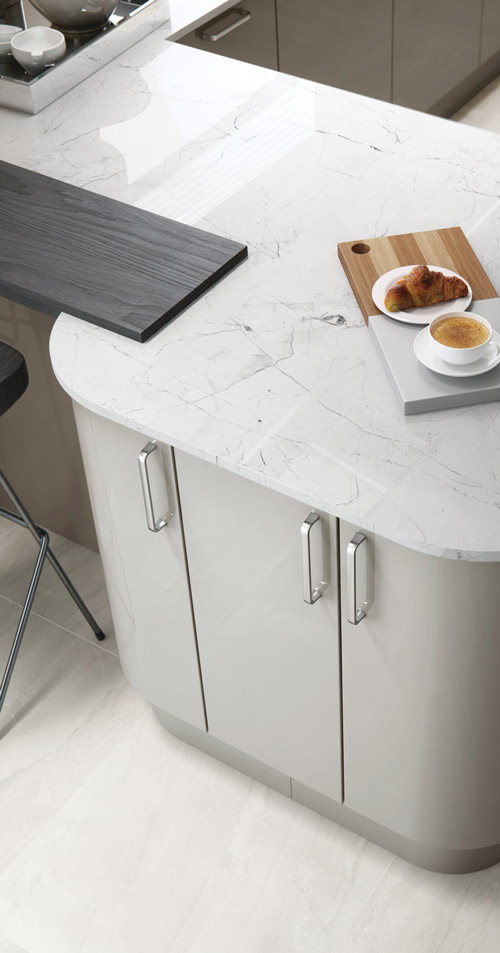 In The Present
A Modern Statement
The perfect kitchen is one that exactly matches your needs and habits. We offer many options for a modern kitchen layout, designed with the highest degree of individuality, to make your kitchen dreams come true. Experience the many options offered by contemporary layouts, from small spaces to comfortable space for the whole family through to exclusive design highlights: everything is possible. Designed and organised in exactly the way you want it.
We offer the finest quality modern kitchens. British & German-made and built to last, with a genuine flair for contemporary design, precision manufactured quality and design ergonomics. Our range presents a sophisticated design with an extensive suite of sizes, features, and finishes.
Versatile and appealing, our modern kitchen range gives you complete design freedom. Perfectly planned and tailored to your personal taste, in a choreography of form, function and ergonomics. Your kitchen becomes a beautiful, contemporary versatile space for cooking and living in.
We offer a selection of British & German modern kitchen lines.
Wirral    |    Cheshire    |    Liverpool    |    North Wales
Our Modern Kitchens Are Precision Built By British & German Craftsmen.
What you see here isn't all there is to see, take a good look and get a feel, you may see the modern kitchen design you want but there is so much more to see at our Kitchens Showroom in Heswall. We pride ourselves on offering our customers unparalleled service so why not visit us and see what we do, we install kitchens all over Wirral, Liverpool and Cheshire & North Wales. Remember to also check out our Bespoke Kitchens, and Bedroom furnishings.

WHAT GOES INTO A MODERN KITCHEN
The Kitchen Upgraded
High Gloss, Satin &
Textured Wood Finishes

Unique extra wide pullout drawers

Unique Wall units from 384 – 1440mm high
Italian System retractable breakfast bar

Lift up and pull out table systems
Custom Stainless Steel, Iron, Gun Metal & Metallic Finished Worktops

Beveled glass fronted doors in our handleless range
Concealed Wires to Recessed LED lighting

True Handleless Kitchens & Contrast or Coordinating Handle Trims

Floating effect base units
Our Showroom
Come visit our showroom on the Wirral peninsular
Showroom Address
Kitchen Design – 58 Telegraph Road, Heswall, Wirral, CH60 0AG
Call And Enquire
Book an appointment with our expert design team
Call Us Today!
Call 0151 342 7316 Today!
Send Us An Email
Let us know your requirements
WE'D LOVE TO HEAR FROM YOU
Email hello@kitchendesign.co.uk
Kitchen Design Wirral
Average rating:
7 reviews
Jul 30, 2020
Our Second Kitchen
This is the second time we have had a kitchen from Kitchen Design. Bill and his team were very helpful from design to quality of build. I'm very pleased with my new kitchen and would recommend them.
Sep 29, 2018
This is the third kitchen you have fitted for us in over 30 years
Hi Bill and Andrew

Thank you so much for all the hard work & expertise that went into the design and fitting of our new kitchen. We are very pleased with the final result.

We appreciated the detailed meetings we had when planning the kitchen. The planning process was excellent, and your advice on the detail and finish resulted in a fabulous kitchen.

Nothing fazed you, despite the changes we made along the way. There were things that we wanted to alter, even when work was under way, and you were able to let things evolve seamlessly.

The actual fitting benefitted from Bill's on-site input and schedule, which meant we knew what was happening and when. He was always available for advice and this meant things ran smoothly.

This is the third kitchen that you have fitted for us in over 30 years and it is a tribute to Bill and his team that Kitchen Design are still providing such a good service. Highly recommended.
Nov 13, 2017
Would definitely use again
We visited many kitchen planners on the Wirral, Bill and his team at the Kitchen Design Centre were the only company who listened to what we wanted and set about modifying the design until it was perfect at a reasonable price and completed on time. The workmanship was first class and the design has revolutionised our kitchen. Would definitely use Kitchen Design again if we moved house and would only use other companies for comparison.